Alex the weird child's website!

Hey I just wanted to say that this is my first time making a whole website!

I don't really know what I'm doing so my friend coffeebug is going to be a big help!
CoffeeBug has done most of the work so far l|l|
They're going to show me more later!
I use He/they/it pronouns. and My name is obvously Alex! I'm a trans man! It's something that I'm proud of!
Weekly Blog!!
Sorry I haven't updated I've been really busy at my new school.
I guess I can put a picture of my cats. The black one is Karma. The gray one is Oso.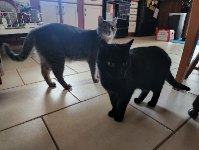 Sign my guestbook, please.